Case study
Children's Advocacy for Rights and Empowerment in the Philippines
Location

Philippines

Project type

Participation of children
In what ways were children able to participate meaningful in the project implementation?

The children participated in the following:
Children's Theatre Arts Group (CTAG) rehearsals and practice/ video production. Aside from their role in the execution of the dance steps, the children provided testimonies on how their rights are realized and how they cope with the challenges that they face in terms of their rights in the time of pandemic during interviews as part of the video. .
Child's Rights Situational Analysis. Through child-friendly methodologies, they were able to express their views and opinions on how children's rights are being protected, respected, and fulfilled, or how these are violated.
Which measures were implemented involving children/young people and adults that facilitated meaningful child participation?
In the conduct of rehearsals for CTAG/ video production, their views were solicited as to how the performance can be improved.
For the Focus Group Discussions, child-friendly and age-appropriate methodologies were employed to ensure that children will be encouraged to participate, that they will be actively engaged in the sessions, and able to understand the questions raised. Moreover, Sign Language interpreters were invited to assist during the focus group discussion to allow children with hearing impairments to participate.
Parents of children with learning disabilities were able to identify their children's needs in terms of health and rehabilitation and education.
Children and youth with disabilities participated in providing inputs on what school supplies and specifications they needed for the electronic tablets (within the budget), for the modular and for online classes with assistance from their parents.
The children with disabilities were encouraged to compose and write their own letters to the supporters. Those who were unable to write were asked to express themselves through drawings.
Which challenges did you encounter and how did you address them?
The children with disabilities are still in the process of learning basic Sign Language, hence soliciting their inputs was challenging. To address this situation, their teacher was invited so that they could express their views comfortably and communicate appropriately. This also applied to children with learning disabilities. In turn, their parents were invited to assist them.
Franco found his voice
"Mama, ang ingay po pala sa mundo. Naririnig ko yung radio, cars, chicken, dogs at mga tao" (Mom, the world is a very noisy place. I can hear the radio, cars, chicken, dogs, and the people).
These are the words uttered by the young boy after hearing the noise around him for the first time in seven years.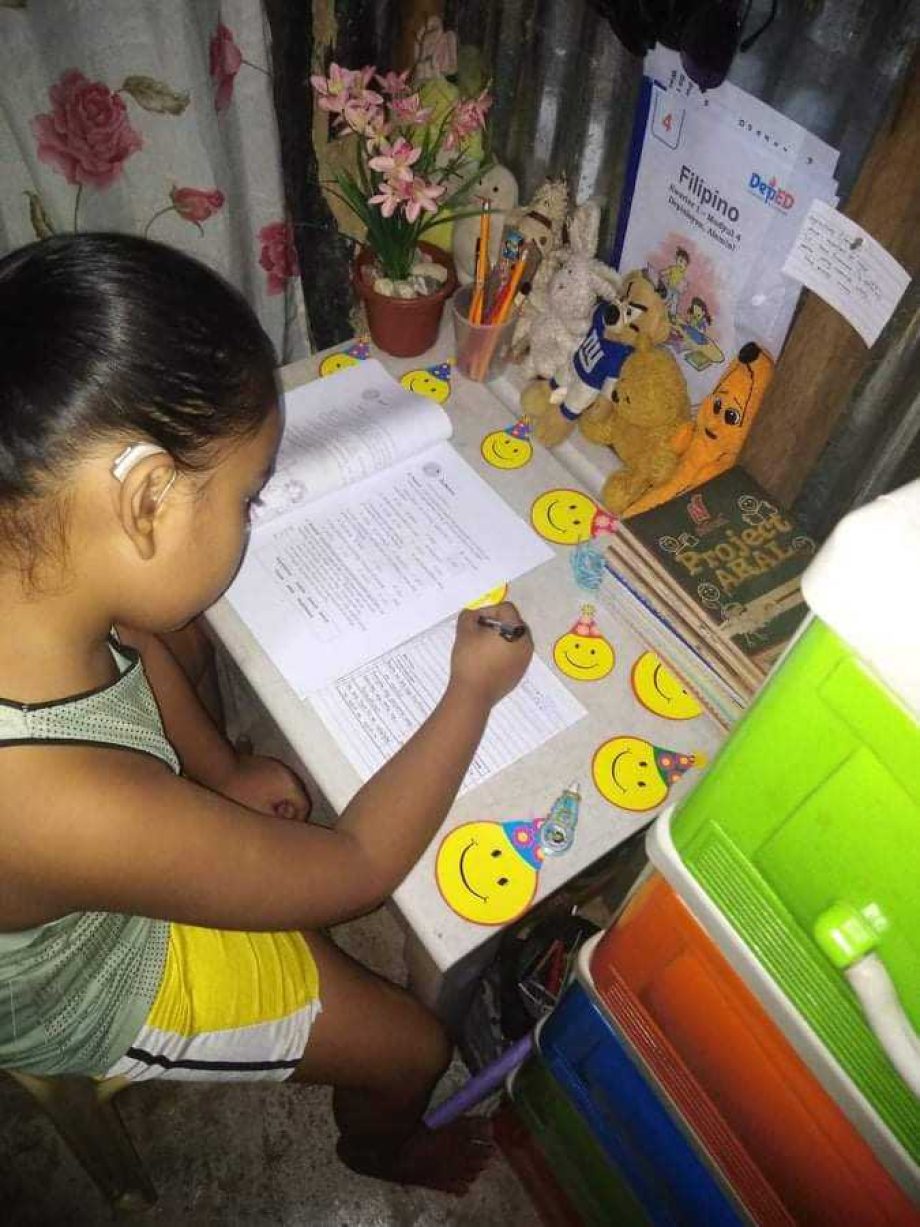 Franco was seven years old when his family found out that he has a hearing disability. According to Franco's mother, Mayshiel, they just assumed that he was a shy child who wanted to be alone. But as time passed, she noticed that her child had difficulties reading, counting, and following instructions. Franco's parents became concerned, and they suspected that Franco was experiencing developmental delays. In 2018, the family decided to bring him to Dr. Manuelito Reyes at Eastern Bicol Medical Center for consultation. After a series of tests, Franco's left ear was found to be 65% damaged, and the right ear was 85% damaged. The doctor recommended that Franco uses hearing aids. His mother applied for financial assistance from various organisations, and the Virac Municipal Social Welfare and Development Office recommended her to the VENTS E.N.T Clinic in Virac, Catanduanes. On the same year, he started wearing hearing aids.
In 2019, Franco was enrolled in 'Children's Advocacy for Rights and Empowerment (CARE)', one of the projects of 'Simon of Cyrene for children with disabilities'. As a result, he was referred to 'Starkey Foundation', where he was able to receive hearing aids for free.
At first, Franco was startled by the sounds which were all new to him and he refused to use hearing aids. He was afraid of being bullied again when children of his age see the hearing aid in both of his ears. He had a fear of public places and was hesitant to interact with other children. He just wanted to stay at home and play with his older brother and uncle. Whenever he went outside, he covered his hearing aids with his long black hair. He seldom participated in activities which require a lot of movement because he was afraid that his hearing aids would fall off. He would like to keep them in good working condition.
Slowly, Franco was also able to overcome his shyness. He is currently pursuing his education through modular learning. Simon of Cyrene provided him with transportation allowance and school supplies. He now plays with other children outside the house. However, according to his mother, there are still times that he excludes himself especially if there are unfamiliar people around. Nevertheless, they are positive that his socialization skills are improving.
Franco enjoys participating in all the activities of Simon of Cyrene. This provides him venues to improve his socialization skills. During the data collection for the Child Rights Situation Analysis (CRSA), he took part in a Focus Group Discussion with other children with disabilities. The hearing aid is a big help because he can hear and understand what is happening around, without the need for a translator. Further, his self-confidence has gradually improved. Franco enjoys spending time with his family. They enjoy going to Seashore Park to unwind. He is a kind and smart kid who loves drawing cartoon characters and portraits.
"Franco has a lot of dreams, and we are rooting for his success. He aspires to be a chef and work in a hotel just like me. He dreams to own a burger shop. He also desires to be a tattoo artist because he wants to fill my back with tattoos and venture into that business.", his mother said.