Case study
Disability Inclusive Humanitarian Action for Internally Displaced Persons and Host Communities in Cameroon
Location

Cameroon

Project type

Humanitarian Action
Disability Inclusive Humanitarian Action for Internally Displaced Persons (IDPs) and Host Communities in South West Region, Cameroon
The situation in the South West Region and North West Region of Cameroon is a complex, on-going humanitarian crisis. In 2017, the socio-political crisis turned into a situation of violence with increasing reports of human rights violations and abuses, including extra-judicial killings, arbitrary arrests and destruction of property, and rising humanitarian needs.
This caused a situation of internal displacement as well as displacement to neighbouring Nigeria. The displaced communities have acute humanitarian needs for protection, food, shelter/non-food items (NFI), water and sanitation as well as access to health and education. Persons with disabilities are at heightened risk of attacks, sexual violence and neglect if humanitarian responses do not mainstream disability in their planning.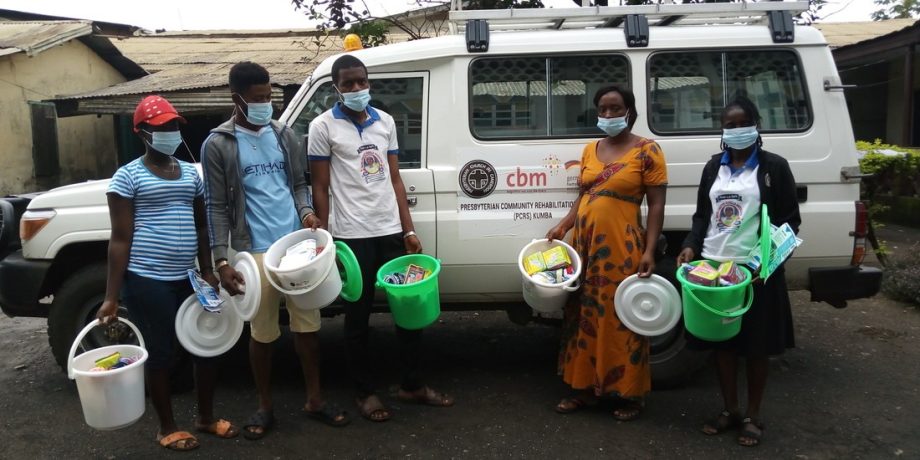 To ensure a disability-inclusive response in the affected region, CBM and their main local partner, the Presbyterian Church in Cameroon (PCC), strongly involve local and national organisations of persons with disabilities (OPDs) in several activities. The aim is to support OPDs to advocate independently with (local and international) humanitarian organisations, donor agencies and government agencies for increased awareness and understanding of inclusive humanitarian response and for taking action to mainstream disability in their humanitarian programs.
Building the capacities of OPDs
The first aim of the CBM's and PCC's humanitarian project was to strengthen the capacities of local and national OPDs to increase their ability for effective and meaningful advocacy for the rights and needs of persons with disabilities towards humanitarian organisations and within the humanitarian system. This included the following:
Basic trainings on the rights of persons with disabilities based on the Convention on the rights of persons with disabilities (CRPD), the functioning of the humanitarian system and disability inclusive humanitarian assistance
In-depth trainings for selected leaders of OPDs on advocacy
Development of advocacy action plans on inclusive humanitarian assistance
Support for the participation of OPD representatives in Cluster Meetings
Financial support to strengthen the necessary office infrastructure of OPDs (office space, computers etc.)
The goal of the initial trainings was to build the OPD capacity on the functioning of humanitarian systems, coordination mechanisms and strategies for strengthening the inclusion of persons with disabilities during humanitarian assistance. Afterwards, ten OPDs leader were trained for one week on how to effectively participate and advocate in cluster coordination meetings and how to collect disaggregated data. Afterwards, the trained OPDs received close technical and also financial support (e.g. for transport, office space, technical equipment) to develop and implement concrete (advocacy) action plans.
OPDs in action
Manyu Circle Association for the Blind (MACAFOBI) has been identified as one of the OPDs to be capacitated through CBM and PCC. The trainings focused on strengthening the OPD's capacity on how to participate in cluster meetings, develop and implement advocacy plans. Members were also trained on safety and preparedness during disaster periods and on networking with other humanitarian organisations. Now, MACAFOBI is also in a position to do referrals of persons with disabilities to the humanitarian services provided by the different humanitarian actors. MECAFOBI received support from CBM/PCC for equipping their office, pre- financing the advocacy plan action, as well as training persons with disabilities to know their rights, and to advocate for disability inclusion in cluster meetings to make the humanitarian response more disability inclusive.
The "Coordinating Unit of Associations of Persons with Disabilities (CUAPWD)", a local OPD network, has also been strengthened and supported through CBM and PCC. CUAPWD is now regularly engaged in the local Protection cluster meetings. Through their engagement, they have also been able to make direct links with the relevant staff of the United Nations Office for the Coordination of Humanitarian Affairs (OCHA) and are now able to directly advocate for their rights and an inclusive response without need for further support from CBM/PCC.