Providing accessibility
Accessibility is a pre-condition for persons with disabilities to participate in any process.
Accessibility provisions are known to benefit all and not just persons with disabilities. For example, people prefer using a ramp as compared to steps, closed captioning in a webinar is useful for all, or material developed in easy to read format benefits everybody and not just persons with disabilities.
Providing accessibility requires addressing different components during the planning, implementation and follow-up of any participatory process such as consultations, workshops or meetings. Accessibility plays an important role, especially concerning:
Choosing the right venue for the consultation should adhere to accessibility standards. Check these 30 accessibility considerations when choosing an event venue.
Availability of an accessible mode of transport that persons with disabilities can use to easily reach the venue,
Preparation of all information related to the consultation to be available in accessible formats such as Braille, large print, easy to read etc.
Deciding the platforms and the tools you would use in virtual meetings and in face-to-face meetings, as they need to be accessible. If there are group activities on the agenda, then these must be oriented to the universal understanding of the attendees.
Proactively making sure that persons with disabilities can communicate freely throughout the consultation.
Making assistive devices and information and communication technology to support participation such as induction loops and other sound enhancement systems available.
Ensuring availability of budget for support staff such as Sign Language interpreters and closed captioners. Budget would also be required to pay expenses for participants from Organisations of Persons with Disabilities (OPDs). This could include paying for their transport or for their data costs for attending an online meeting. This is particularly important for marginalised groups who are more likely to experience poverty. Expenses should also be paid for support people.
OPDs can be hired to undertake a professional accessibility assessment to check the accessibility of the venue and to identify service providers for Sign Language and closed captioning.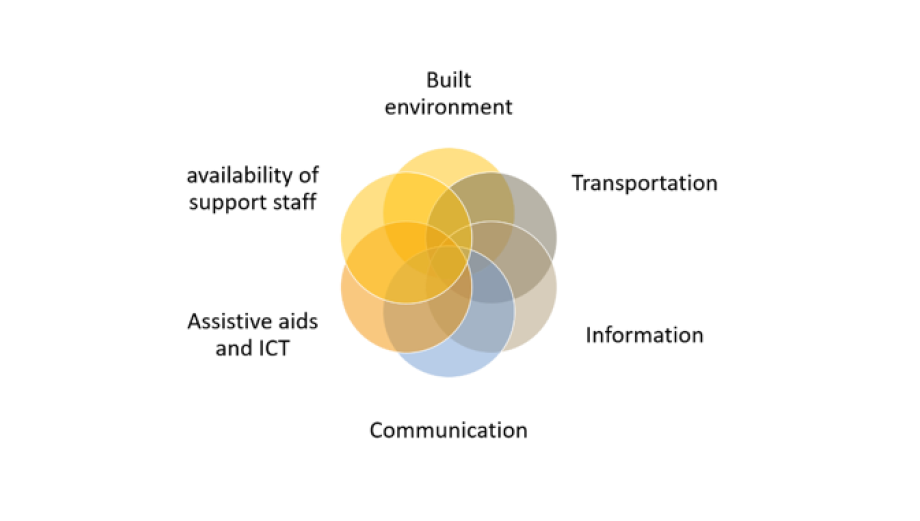 Accessibility requirements for specific groups of persons with disabilities
Persons with disabilities are a diverse group and equally diverse are their accessibility requirements. Below we have categorised some basic accessibility requirements for a few disability constituencies to demonstrate that accessibility requirements are diverse and not the same for all persons with disabilities.